Keeping your business safe is a top priority for many reasons, including the fact that doing so typically results in a discount on your business insurance premiums. A great first step towards effective business security is choosing the right lock types for your doors and windows – to protect your staff members, your business contents and your company. Because door lock types and window lock types are of many kinds, and involve differing lock technology and locking mechanisms, to help you understand them, we have created this helpful blog.
The Main Door Lock Types & Window Lock Types
Five-lever Mortice Deadlock For Doors & Windows
The five-lever mortice deadlock is one of the most common door lock types – typically installed on wooden front doors. It involves cutting a cavity into the door (known as a 'mortice') for the actual lock to be fitted. Business insurers usually insist that every exit door and ground-floor window is fitted with a five-lever mortice lock conforming to BS3621 before they offer cover.
The levers are what the key has to move in in order to 'throw' or 'deadlock'. The more levers a mortice has, the more secure it is, mainly because you need more points of contact  for lock picking or to unlock it. Though three-lever locks are available, the British Standard BS3621 recommends five for the minimum level of security.
Many insurers will reduce your business contents insurance premiums if you use door locks which feature the Kitemark, as this ensures they have been manufactured to a high standard, and incorporate exceptional lock technology.
You can tell a 5 Lever Mortice Deadlock conforms to BS3621 by looking out for the following:
Kitemark Engraved – The Mortice Lock will have the British Standard Kitemark engraved on faceplate.

Number of Levers Engraved –  Faceplate should state the number of levers the lock has.

Standard Number Engraved – The Faceplate of the lock will state the standard number (e.g  BS3621:2017).
The most popular brands of BS3621 mortice deadlocks include ERA, Union, Yale, ASEC, Chubb and Legge.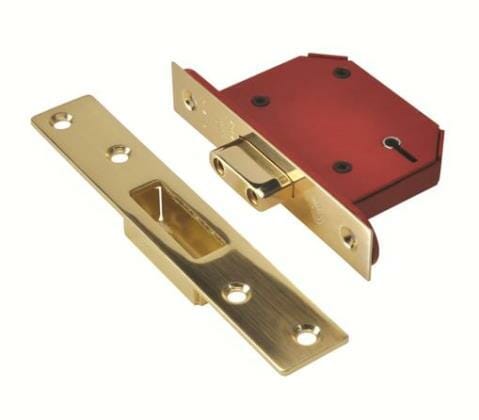 Image Source: Master Locksmith Association
Multi-point Locking System For Doors & Windows
Considered more secure than a mortice lock, multi-point locking systems incorporate at least three locking points – which all lock simultaneously when you turn the key. These locks include the type where to need to lift the handle up to lock the door properly, and are most common on uPVC doors. If they feature on your business's main entrance door, you will need a locking cylinder with at least 5 pins for your insurance.
The Master Locksmiths Association recommends the use of locks with cylinders that are SS312 Diamond Approved, or which conform to the newer TS007 three-star Kitemark standard. Alternatively, you can have a minimum of 1-star cylinder with 2 star PAS24 handles fitted.
Image Source: Master Locksmith Association
Nightlatches & Rim Latch Locks For Doors
Instead of being morticed within your door, nightlatches and rim lack locks are mounted to your doors, or door frames instead. A nightlatch should never be used on its own, but we recommend that you install one as an extra layer of protection. 
Double-locking nightlatches are the most secure form, as they have a keyhole on the handle inside the door so that the door latch can be deadlocked from inside. As with the five-lever mortice deadlock, a night latch built to BS3621 standards is a much safer bet.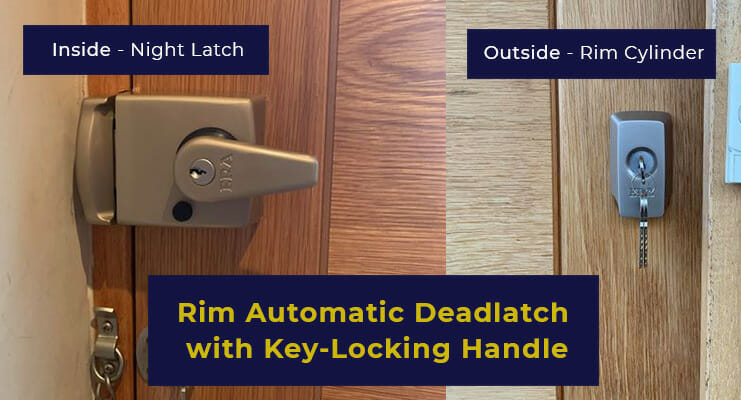 Image Source: Master Locksmith Association
Key-operated Window Locks
We always strongly recommend fitting your windows with key-operated window locks, which can be fitted to the top or bottom of a window, or on the handle that closes the window. 
Of course, there are many other popular types of locks for businesses, including:
Keypads: Where you enter a designated code and you're granted access to the building or office.

Push paddle locks: Where you push in on the metal lever to open the door.
Door Lock FAQs
What are the best door lock types?
The correct door lock type depends on factors including the door type and property type.
As the Master Locksmiths Association states:
A wooden door will require a different lock compared to a uPVC or composite door, as most wooden doors have two locks fitted.

A door lock on a Fire Escape Door (or a business with a single exit) will have different escape requirements compared to a domestic house lock.
They even suggest having a reputable locksmith come out to view your business so that they can recommend the correct locks for your doors, as well as having them independently tested.
Is there a particular brand of door lock you can recommend?
So long as the lock has been independently tested and meets security standards, then you can be certain that – and based on the advice of your locksmith – that your door lock is the right one for your doors. Dependent on the business insurance policy you would like, and how much you'd like to save, we can guide you to some extent on the type of door lock to install.
What are the best locks for wooden doors?
A lock that meets the safety requirements of the BS3621, and could be a nightlatch lock or mortice deadlock. Please remember that a non-tested nightlatch used on its own will not secure your business and could be open to theft and burglary. Remember to ALWAYS check your policy to be sure you comply with your insurer's terms and conditions with respect to minimum levels of security. If you are unsure, speak to us and we will help you find the information in your insurance policy.
What are the best locks for uPVC doors?
A multipoint lock with a Euro cylinder, and for extra security – ensuring this is either an SS312 Diamond Approved Cylinder or TS007 3 Star.
What are the best locks for composite doors?
If your composite door has been tested to PAS 24 and carries a Secure by Design certificate, then the lock has been tested to a very high level of attack so new locks are not needed.
If the door is untested then changing the locking cylinder to a Sold Secure SS312 Diamond cylinder or TS 007 3 star cylinder will prevent locks being broken and burglars gaining forced entry. Please check your policy to ensure that you comply with your insurer's terms and conditions with respect to minimum levels of security.
Installing door locks and window locks may seem a little costly, but with the money you could save on your business insurance policy, as well as the protection it'll provide your team members, it is, we feel, a small price to pay. For more information on door lock types and window lock types, and to discuss our range of cover, please don't hesitate to contact us today on 0161 968 2060.
Is it time to upgrade your business insurance? Whether you're after business contents insurance, or business interruption insurance, public liability insurance or employer's liability insurance, we can help you with it all. If you'd like to discuss our range of business insurance policies and just how they can keep you protected, please get in touch with us today.